Frequently Asked Questions
how old do you have to be to register for a library card?
A Marshalltown Public Library borrower's card will be issued to any resident of Iowa who is at least 3 years of age. Children 3 to 11 will be issued a youth card which must be signed by a parent or legal guardian who is responsible for items checked out by the child. See our Library Card page for more information!
Can I volunteer at the library?
Volunteers must be at least 16 years of age and in good standing with our library. Please view our Volunteer page for more information and requirements regarding volunteering.
where did the americans and the holocaust exhibition go after it left marshalltown?
The Americans and the Holocaust traveling exhibition was at the library from March 23-May 6, 2022. Click here to find out more information about where the exhibition will be traveling through 2023.
Does the library have computers for the public with internet access?
Yes! The Marshalltown Public Library offers 27 free internet stations available on a first-come first-serve basis. These computers are equipped with many different tools to accommodate your technological needs. Please see our Computers page, visit our information desk, or contact us for more information!
When did the Marshalltown Public Library open?
The Marshalltown Public library was established as a free municipal library in 1898. It moved to the building at 36 N. Center Street in 1902. For more on the history of our library, please see the About Us page!
How to update your personal information or renew your library privilege
Once per year, your library card privilege expires on your card so that the library can check that your contact information is still the same. You can always update this information at the library's Check Out Desk, but now you can do it online as well!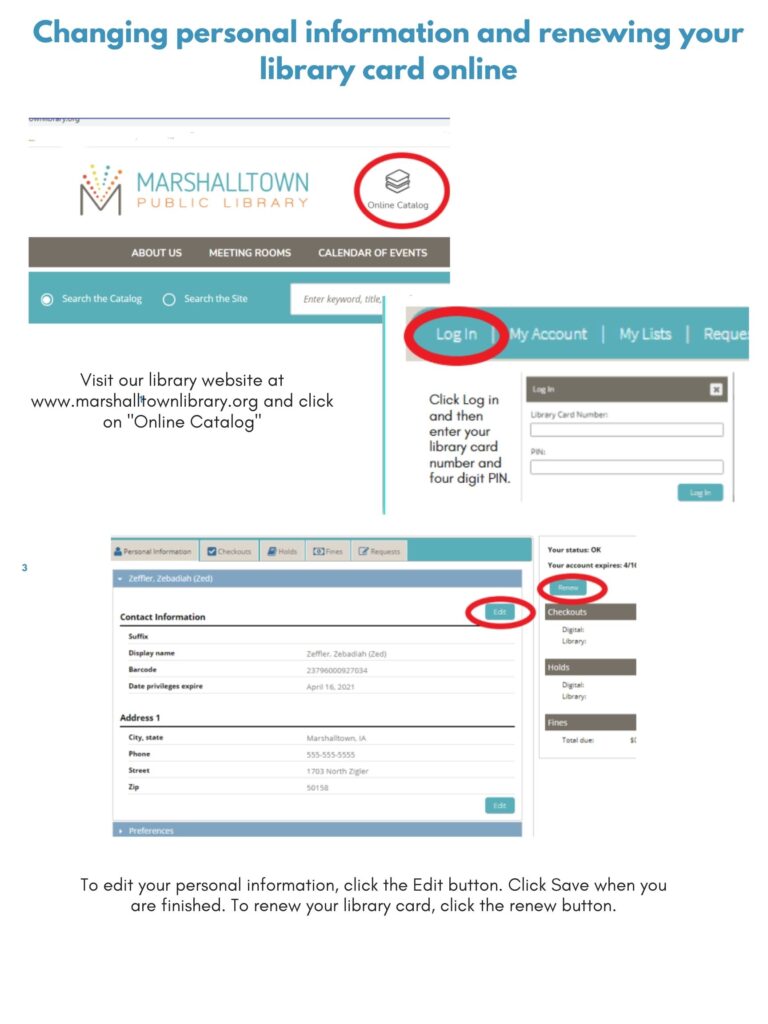 We are always willing to answer more questions or discuss something you are looking to accomplish. Please see our Contact Us page to learn how to get in touch.