Curbside Pickup and Digital Services
Curbside Pickup of Materials
PLACE a hold using our online catalog at marshalltownlibrary.org or by calling the library at 641-754-5738, press 2.
WAIT for a notification from us that your curbside items are ready to be picked up—you will get either a phone call or email from us. Expect a wait time of 24 to 48 hours for this.
DRIVE to the library during scheduled curbside hours between 10:00am – 5:45pm (Monday-Friday) or 1:00-4:45pm (Saturday-Sunday) and park in any of the curbside pick-up parking locations (there are 3!). Call the library when you're here at 641-754-5738, press 2 and let us know which spot you're in.
WAIT in your vehicle while the library staff member brings your items outside. If you'd like staff to hand the items to you please leave your windows rolled down. If you'd like us to leave them on the curb, please leave your windows rolled up. If you have items to return, please return items to the book drop before you've called or after you've picked up your items.
NOTE: If you do not have a car or a cell phone, please call the library at 641-754-5738 ext. 2 to arrange a pick-up plan.
Here is an infographic that details how to request curbside pickup through our online catalog:
Curbside Printing Procedure
Patrons can request documents to be printed via curbside pick-up. Here's how you can get your documents:
1. Email PDFs, DOC files, or links to library@marshalltown-ia.gov to be printed. Print jobs should be limited to 15 pages per week. Make sure to provide your full name and put "Curbside Print Job" as the subject of your email. At this time, we are only able to print in Black and White.
2. WAIT for us to confirm we've printed your job. We will send you an email when your items are available for pick-up.
3. Our curbside hours are:
Monday-Friday: 10:00am-5:45pm
Sunday: 1:00pm-3:45pm
4. Come to the library during our designated curbside pick-up hours. Park in one of the 3 curbside parking spots on the West side of our main entrance. Call the library at 641-754-5738 ext. 2 when you get here to let us know you've arrived.
5. WAIT in your vehicle while the library staff member brings your items outside. We will place the items in a plastic bag near your car. Please stay in your vehicle until the library staff member is back inside.
If you have any questions about this process, please call the Info Desk at 641-754-5738 ext. 4 and we'll be happy to walk you through it.
Disclaimer: we are not able to print all file types, but we'll try our best to print whatever you need.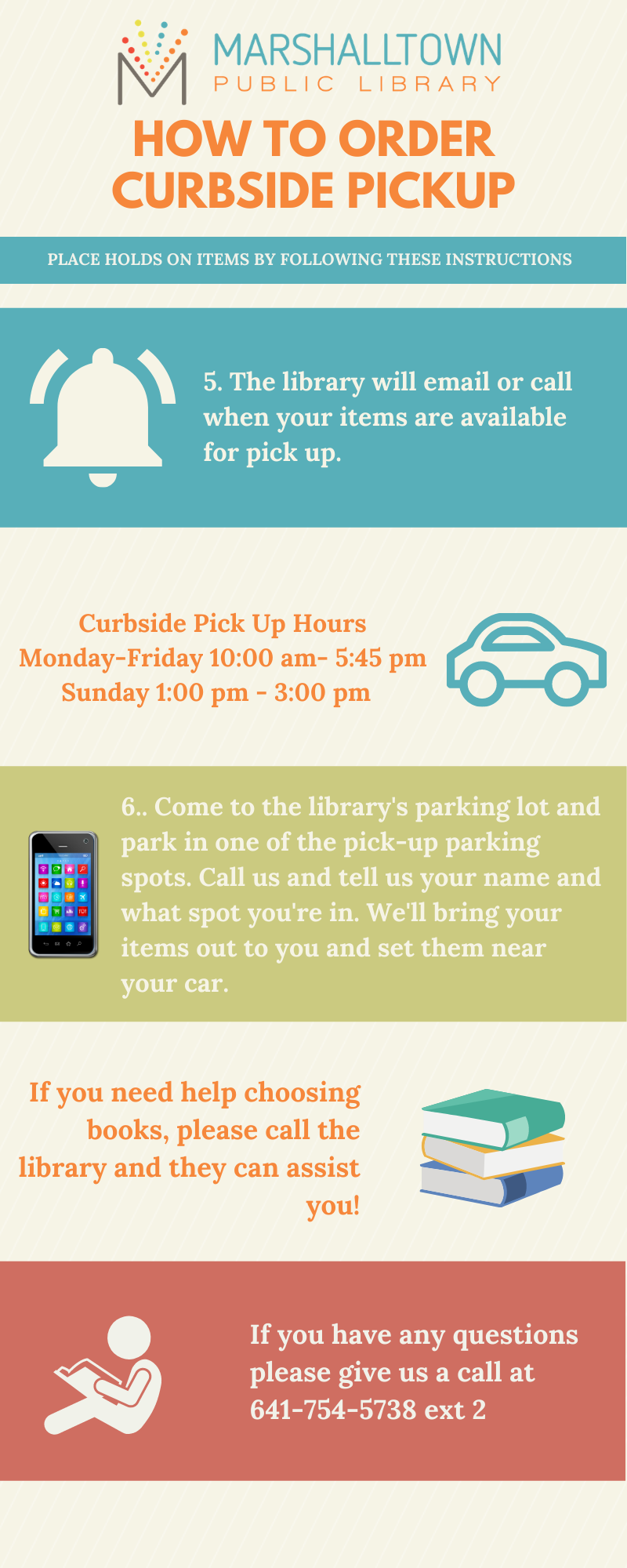 Need help picking items for curbside? Here's a video to walk you through the process:
Digital Services
Downloadable eBooks, Audiobooks, Movies, TV shows, magazines, comics
eBooks and eAudiobooks via Bridges
eBooks, eAudiobooks, comics, movies, TV shows, and music via Hoopla
Movies, TV Shows, Comics, Magazines via RBDigital.
We are now offering several more services on top of our great digital magazines! Acorn TV lets you stream all your favorite British TV shows, and Great Courses offers learning on a wide range of your favorite topics.
Spanish eBooks and audiobooks on Odilo
eBooks and eAudiobooks for kids and teens on Tumblebooks

Some digital materials, including all streaming video and downloadable eBooks and eAudiobooks, are only available to residents of Marshalltown, rural Marshall County, Haverhill, and Ferguson.
Check out our amazing online resources that can be used from home: