What's New @ The Library
COVID-19 Closure
After careful consideration, the library has made the difficult decision to be closed through Sunday, April 12. We will be suspending all youth and adult programming, as well as large meeting room use, through the end of April (April 30). For more information about the library and the community, click the link below.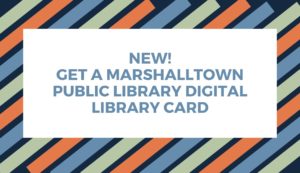 Digital Library Card
Due to the Marshalltown Public Library being closed to the public, we are now offering people the opportunity to sign up for a digital library card.
NOTE: If you already have a Marshalltown Public Library card, you do not need a digital card to access digital materials. This is a new way for people to sign up for a library card without being present in a building.
A digital library card will work as a temporary, three-month card that will allow you to use our digital materials, including:
Some digital materials, including all streaming video and downloadable eBooks and eAudiobooks, are only available to residents of Marshalltown, rural Marshall County, Haverhill, and Ferguson.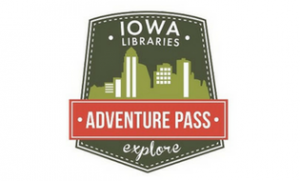 Adventure Pass
Use your library card to register for a free day pass for the Blank Park Zoo, Science Center of Iowa, and other family attractions. Passes admit two adults and two children. Please make sure to print your pass, as well as check the hours, age designations for children (i.e. most admit teens at adult price) and other details for each location before you visit.
New Material

A Minute to Midnigh by David Baldacci