What's New @ The Library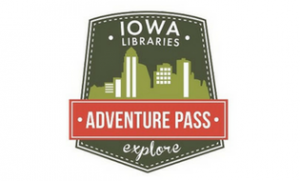 Adventure Pass
Currently, customers in our dedicated service area (Marshalltown, Haverhill, Ferguson, rural Marshall County) can reserve a family pass (2 adults and 2 children) for the Blank Park Zoo, Science Center of Iowa, Greater Des Moines Botanical Garden, Des Moines Children's Museum or Grout Museum in Waterloo using the online system. Call the library at 641-754-5738, ext. 3 with questions.
Apply for a Library Card
We are now offering people the opportunity to sign up for a library card online. Nearly all residents of the state of Iowa are eligible to apply for a library card from the Marshalltown Public Library. In order to verify your mailing address, we will mail you your card.
The number on the back of your library card (with no spaces) and the PIN number you choose can be used to view your library account here.
Your library card number can be used to access downloadable materials like eBooks as well as online resources like the New York Times, Consumer Reports, language learning, and more!
Some digital materials, including all streaming video and downloadable eBooks and eAudiobooks, are only available to residents of Marshalltown, rural Marshall County, Haverhill, and Ferguson.
Test Iowa COVID Test Kit Pickup
The library is a pick-up site for Test Iowa at-home saliva tests for COVID-19. Tests MUST be picked up outside the library building. Park in the pick-up parking spots on the south side of the library building. Call the number on the sign (641-754-5738 ext. 2). Tell us what spot you're in and how many tests you need, and we'll bring them out to you, along with a list of UPS drop-off boxes in Marshalltown, where you'll bring your test when you're finished.
La Biblioteca es un sitio de recogida para Test Iowa pruebas de saliva en casa para COVID-19. Las pruebas DEBEN ser recogida afuera de la Biblioteca. Aparcar en el parking de recogida en el lado sur de la Biblioteca. Llame al numero en la senal de estacionamento (641-754-5738 ext. 2). Dinos en cual lugar estas en, cuantas pruebas necesitas, y se las traeremos, junto con una lista de sitios de entrega en Marshalltown, onde llevas tus pruebas cuando acabas.
New Material

Run Rose Run by Dolly Parton & James Patterson

Meet Me in the Margins by Melissa Ferguson
Citizen K-9 by David Rosenfelt
House of Sky and Breath by Sarah J. Maas

The Atlas Six by Olivia Blake