What's New @ The Library
COVID-19 Closure
After careful consideration, the library has made the difficult decision to be closed until further notice. We will be suspending all youth and adult programming, as well as large meeting room use. For more information about the library and the community, click the link below.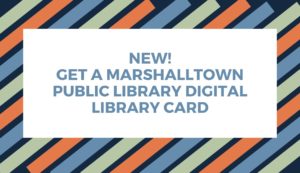 Digital Library Card
Due to the Marshalltown Public Library being closed to the public, we are now offering people the opportunity to sign up for a digital library card.
NOTE: If you already have a Marshalltown Public Library card, you do not need a digital card to access digital materials. This is a new way for people to sign up for a library card without being present in a building.
A digital library card will work as a temporary, three-month card that will allow you to use our digital materials, including:
Some digital materials, including all streaming video and downloadable eBooks and eAudiobooks, are only available to residents of Marshalltown, rural Marshall County, Haverhill, and Ferguson.
Curbside Pick-Up
Curbside Pick-up is back on Wednesday, June 3rd! Here is some information about how Curbside Pick-up will work.
PLACE a hold using our online catalog at marshalltownlibrary.org or by calling the library at 641-754-5738, press 2.
WAIT for a notification from us that your curbside items are ready to be scheduled for pick-up—you will get either a phone call or email from us.
RESPOND to the email to schedule your curbside pick-up. At this point, due to heavy demand, YOU MUST HAVE SCHEDULED YOUR PICK-UP DAY BEFORE COMING TO GET ITEMS.
DRIVE to the library on your scheduled pick-up day between 10:00am-12:30pm and 3:00pm-5:30pm and park in any of the curbside pick-up parking locations (there are 3!). Call the library when you're here at 641-754-5738, press 2 and let us know which spot you're in.
WAIT in your vehicle while the library staff member brings your items outside. We will place the items in a plastic bag near your car. Please stay in your vehicle until the library staff member is back inside. If you have items to return, please return items to the book drop before you've called or after you've picked up your items.
NOTE: If you do not have a car or a cell phone, please call the library at 641-754-5738 ext. 2 to arrange a pick-up plan.
New Material

A Minute to Midnigh by David Baldacci