What's New @ The Library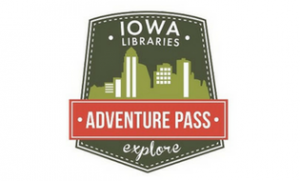 Adventure Pass
Currently, customers in our dedicated service area (Marshalltown, Haverhill, Ferguson, rural Marshall County) can reserve a family pass (2 adults and 2 children) for the Blank Park Zoo, Science Center of Iowa, Greater Des Moines Botanical Garden, or Grout Museum in Waterloo using the online system. It is VERY important that you check the website of each venue as there are specific guidelines, changes in hours, etc. due to COVID. Call the library at 641-754-5738, ext. 3 with questions.
Apply for a Library Card
We are now offering people the opportunity to sign up for a library card online. Nearly all residents of the state of Iowa are eligible to apply for a library card from the Marshalltown Public Library. In order to verify your mailing address, we will mail you your card.
The number on the back of your library card (with no spaces) and the PIN number you choose can be used to view your library account here.
Your library card number can be used to access downloadable materials like eBooks as well as online resources like the New York Times, Consumer Reports, language learning, and more!
Some digital materials, including all streaming video and downloadable eBooks and eAudiobooks, are only available to residents of Marshalltown, rural Marshall County, Haverhill, and Ferguson.
Curbside Pick-Up
PLACE a hold using our online catalog at marshalltownlibrary.org or by calling the library at 641-754-5738, press 2.
WAIT for a notification from us that your curbside items are ready to be scheduled for pick-up—you will get either a phone call or email from us. Expect a wait time of 24 to 48 hours for this.
DRIVE to the library during scheduled curbside pick-up hours between 10:00am – 5:30pm (Monday-Friday) or 1:00-4:45pm (Saturday-Sunday) and park in any of the curbside pick-up parking locations (there are 3!). Call the library when you're here at 641-754-5738, press 2 and let us know which spot you're in.
WAIT in your vehicle while the library staff member brings your items outside. If you have items to return, please return items to the book drop before you've called or after you've picked up your items.
NOTE: If you do not have a car or a cell phone, please call the library at 641-754-5738 ext. 2 to arrange a pick-up plan.
New Material
A Minute to Midnight by David Baldacci