EXpanded Hours/Limited Seating Continues
The library is expanding our hours and offering some limited seating in the library starting on Monday, March 29. Masks that cover a persons nose and mouth are required at all times while in the library, except for babies and toddlers. These guidelines will be in place until further notice, and are subject to change, as circumstances warrant.
If you or a member of your household are sick or have been exposed to someone with Covid-19 in the last 2 weeks, do not come to the library. Contact library staff about other options to get materials at 641-754-5738 x2.
What to expect during the Expanded Walkthrough Phase:
The library building will be open to patrons Monday-Friday from 10am-6pm and Sunday from 1pm-4pm.

Curbside Pick-up will be available from 10 am to 5:45 pm Monday through Friday and Sundays from 1-3:45 pm. Please see Curbside Pickup for more details.

Library staff are available by phone from 9 am to 6pm, Monday through Friday, and 1pm-4pm on Sundays.

Library visitors and staff are required to wear a mask covering their mouth and nose at all times while they are in the library. A limited supply of masks is available for visitors that do not have a mask.

If you are unable to wear a mask, please contact the library at 641-754-5738 ext. 2 for other options, including curbside pickup of materials, print jobs, and other services.

Babies and toddlers are exempt from wearing a mask, but must be immediately supervised by their parent or a caregiver while in the library.

Patrons should limit their visit to 90 minutes or less to check out materials, use the computer, or study as necessary.

Visitors must keep six feet of space between themselves and other visitors. We will have spots on the floor for people to stand when they are waiting to check out materials. Please use good judgement and be respectful of others.

Children 9 and under must be immediately supervised by a parent or caregiver who is 15 or older. We ask that families stay together in the building during this time. If possible, families should send one family member to check out materials for the whole family.

All high touch items like toys, games, tablets, touch screen computers, etc. in the Youth Dept. are unavailable during this phase.

There are some limited seating options available in the library. Meeting and study rooms will not be available, including reservations for future dates, until further notice.

Computer use will be limited to a 75 minute session, and available by appointment during our open hours. There will be six computers available in the Info Desk area and 2 computers available in the Youth Department. Reserve a computer time by calling the Information Desk at 641-754-5738 ext. 4. One-on-one help with computers, copiers, and printers will not be available during this time. Disinfecting wipes and hand sanitizer will be available for those that wish to use them.

The library's faxing service will not be available. Please ask staff for other faxing locations in town.

Please return ALL materials in the outdoor book returns in the walk up book drop in the front of the building, or the drive-up return on the back.

Please allow 2 days for all materials to be checked off your account due to our quarantining of materials. Your items will not accrue late fees during the quarantine period.
As always we appreciate your patience and understanding as we move through our phased reopening.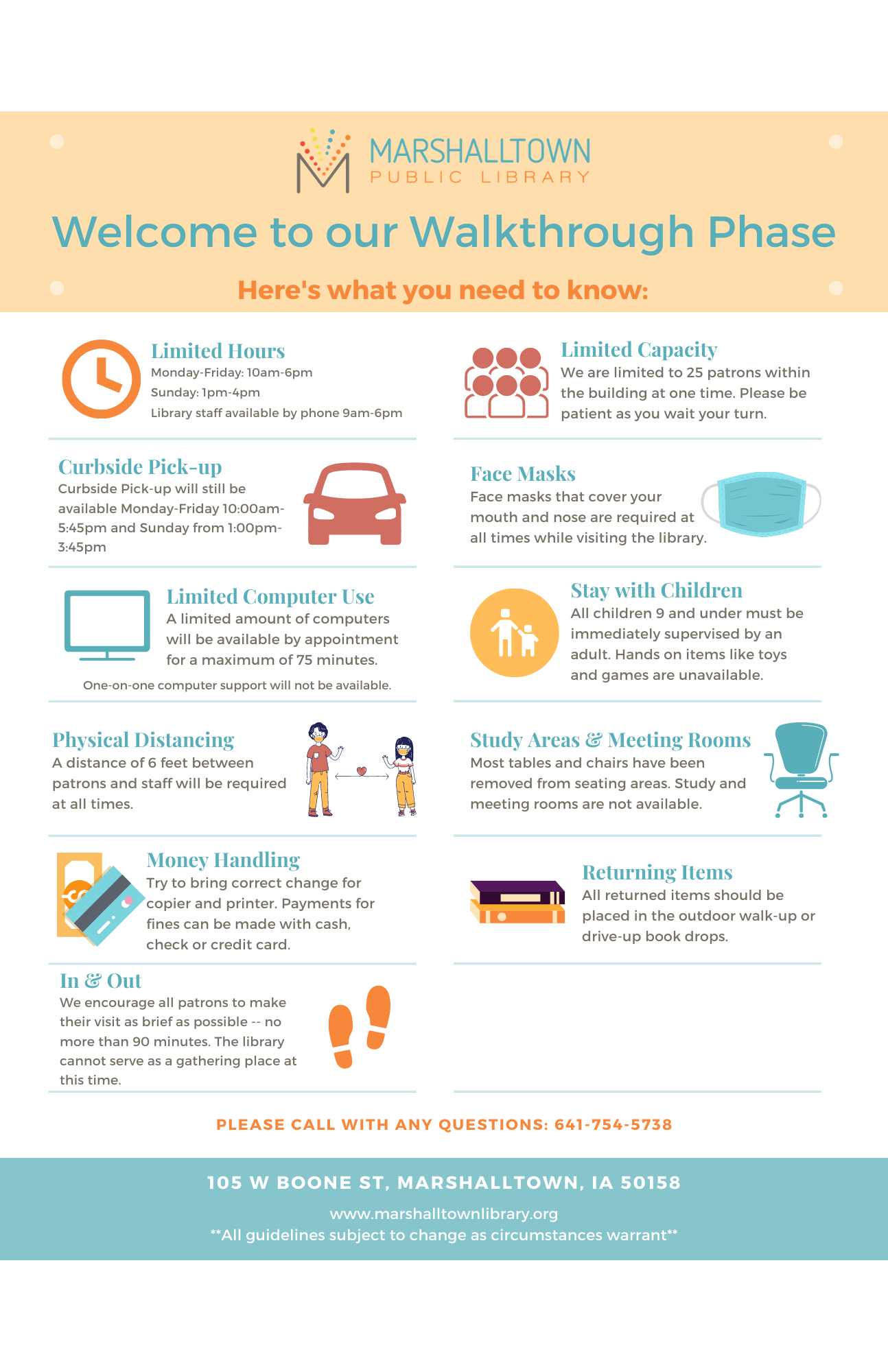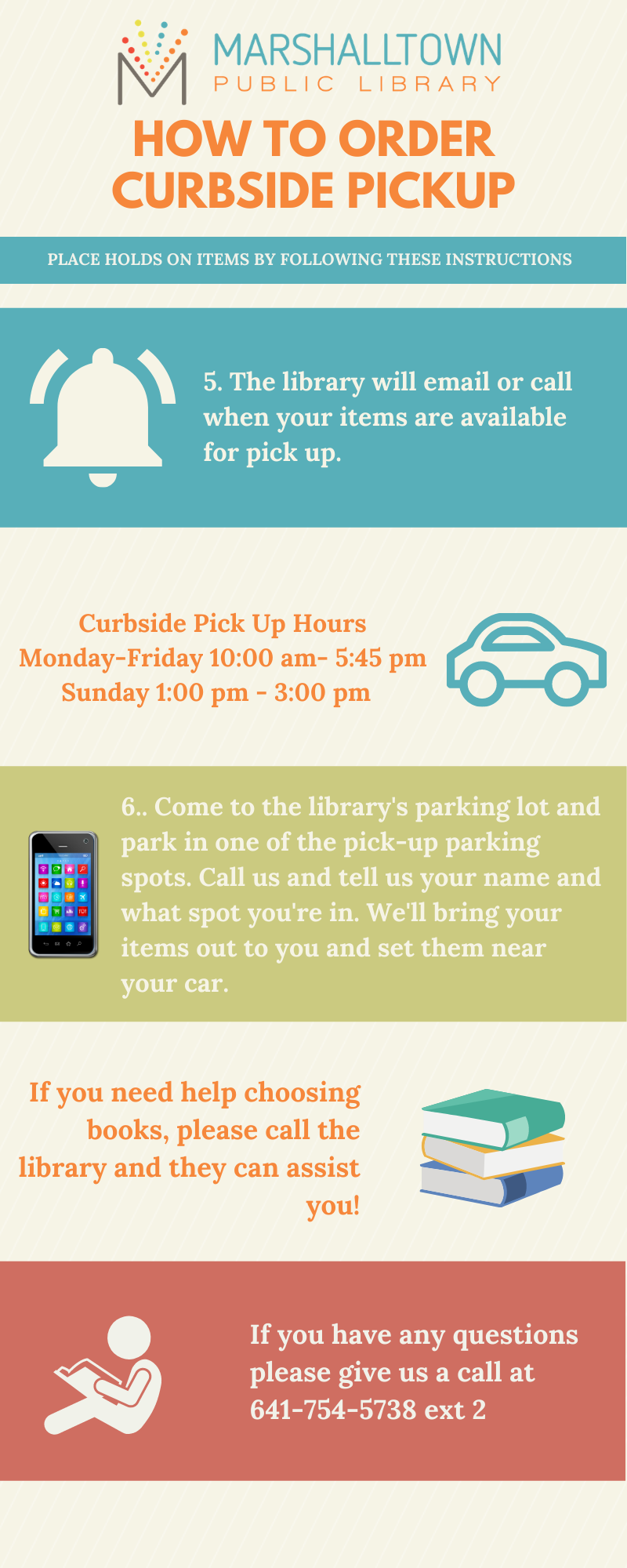 Frequently asked questions
Can I return my books to the library?
Yes. They can be returned in the walk-up book drop on the south side of the building or in the drive-up book drop on the north side of the building off of Linn Street.
I returned items, but they're still showing up on my library account. Why is that?
The library is quarantining returned material for two days before checking items in, as per recommendations from the CDC about the surface life of COVID-19. You will not receive overdue fines during the four days that we quarantine items.
For those who would rather not come into the library
If you are not wanting to come into the building, patrons can access eBooks, streaming services, and more by visiting our Online Resources page, and check out our Curbside Pick-up page for more info about requesting Curbside Pick-up of books and other items. Families can find information on fun learning activities to do at home here.